So these are the best eCommerce niches in 2022 based on Google Trends, statistics, and lots of reading.
However, it's best not to rely on our article alone to start your eCommerce store right away. These are global data, which may not be accurate for your country's market. Furthermore, due to the uncertainty of the pandemic situations, predictions can go wrong.
Therefore, you should do as much self-research as you can, until you have found a promising niche and numerous solid reasons for its success.
Here are some tips to help you get started:
1. Dive into your hobbies
This is probably what you are the most knowledgeable and passionate about.
Have you ever tried plenty of products for your hobby but each has a disadvantage and you could not find a perfect one? This may be your chance for business.
Furthermore, you may have lots of friends that share the same interests. People like them may be your potential customers. Thus, you can easily understand their needs, and pain points and furthermore, you've got friends to provide feedback. 
2. Trend and market observation
"Is this niche profitable?", "Will anyone buy my products?"
The answer may lie in trend and market observation.
Google Trends is useful to find out which search terms are most searched locally & internationally as well as their trend over time. Products that are searched the most are often what the market demands. 
Some keyword tools like SemRush, and Moz help you learn more about keyword volume and keyword difficulty. These two metrics can considerably reflect the product & the market's popularity & competitiveness.
Furthermore, you can follow groups on social networks and forums to find more insight into the niche and its target audience. Try to find one with many active members who share sincere thoughts and experiences about the niche.
It's not a one-day task. However, you can gradually learn what people prefer, which products they need, and even popular products in the group & if people love them to decide if this niche is profitable or not.
Creating your unique product vs reselling products from suppliers?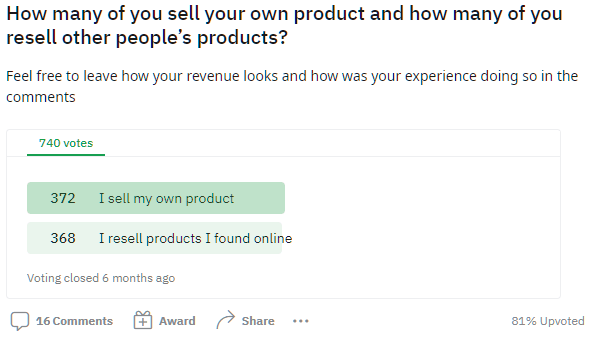 Once you have found a profitable niche to dive into, it's time to think about the three major factors for a successful business: product, manufacturing, and marketing.
There are some popular business models operating around these factors. Choosing one that best fits your strengths and budget is a key to success. 
Let's take a look at each option.
Creating your own products:
The process includes:
Design and develop your own products
Work with manufacturers to bring them to life
Work with the printing company for label and packaging
Market and deliver your products
Pros:
Be able to offer unique products that no one else has.
Take control of your product quality
Cons:
Lots of effort into product-making, label-making, and marketing
Take longer to launch
Resell from other suppliers:
The process includes:
Find in-demand products and work with suppliers
Market the products
Distributes the products. (you can invest in your own inventory or dropship).
Pros:
Save time and effort in making products
Be able to deliver a wide range of products
Cons:
Challenge to find suppliers that are reliable to work with & deliver awesome products at good prices
Beginners may find it difficult to meet up with the minimum quantity of products required by suppliers. 
Struggles to source great products that are not widely available already
Wrapping up
You must be thinking: "that's a hecking lot of thinking to do".
It's true, as there is a quote "the beginning is always the hardest".
However, once you've done adequate research and found a promising eCommerce niche to act on, the following steps will be easier.
One more thing that we learn from our experienced store owners is that success does not happen overnight, and patience is the key.